How much protein should you be consuming everyday?
This is one of the more controversial topics in the fitness industry.. This figure taken from research performed in 1998 on muscle protein synthesis, the mechanism behind muscle growth, demonstrates that for even the most demanding of activities, 1.8g/kg was sufficient enough to illicit the maximal MPS response. The specific demands of protein will depend upon the activity being performed, but hopefully this figure gives some of you insight into how much you really need to maximize performance and results.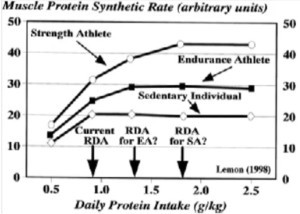 For those of you looking for more specific recommendations, come on down and speak with our extremely knowledgeable registered dietitian, Jenna.
Right now we are offering a free metabolic consultation with the purchase of a Bod Pod test – a $39 value.
Take pride in your health. From exercise to nutrition, we are the one stop facility that can accommodate to all of your health and fitness needs to make you, the best you possible!
Give us a call today at (480) 585-4010.